3 Google Analytics Metrics To Measure Customer Engagement On Your Site
Perhaps one of the most insightful and underused of all free digital marketing tools out there is Google Analytics. It allows you to measure the results of campaigns in real-time, compare data to previous periods, and learn more about your online audience and how they behave. 
At first glance, Google Analytics can be a bit overwhelming, but getting started with some of the basics is easier than it looks. 
Know How Many People Visit and When
Knowing how many visitors your website gets over a certain period is good insight, as is seeing when your traffic spikes. If you are a seasonal business or tend to run digital ads only a few months of the year, you might see some peaks and valleys in your report. Understanding how your traffic flows through the year organically can give you a better idea of when customers have an interest in your product or service. 
Try it: What does your traffic look like? Log into your Google Analytics account, then on your Dashboard, select the Audience tab and click Overview. This will pull up your stats. They should look something like this. Adjust your dates so you can get a full year's worth of data.
Digging into Customer Engagement
Three key metrics for customer engagement reporting are Pages per Session, Average Session Duration, and Bounce Rate. These metrics can give you insight on whether users are finding what they are looking for when they reach your site or leaving disappointed.
Defining Your Key Engagement Metrics

Average Session Duration: The average amount of time spent on the website by each visitor 
Pages/Session: The average number of pages each visitor has viewed 
Bounce rate: The percentage of visitors that navigate away from your website without interaction, after viewing only one page
Applying Engagement Metrics (And Why They Matter)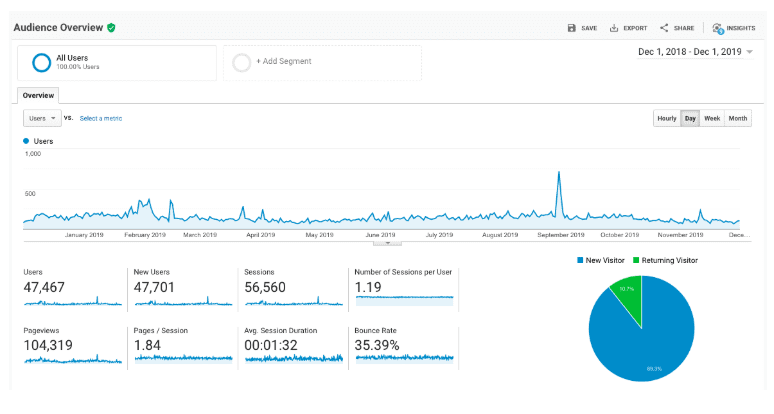 Average Session Duration: Whether users are reading your blogs and FAQ or browsing your products or services, you want to keep people engaged. Pull up the stats for your more important pages and compare the time you spend consuming all the content in an ideal timeframe vs how long the average user spends on the page. If your blog post is a 5 minute read but the average session duration on that page is under a minute, you might consider a rewrite.   
Pages/Session: In most cases, it is recommended that you look at individual pages when analyzing our Pages per Session because this metric varies depending on your goal. If the purpose of your campaign is to get customers to a landing page, give them all the info they need and have them call or fill out a for, then you'd expect this number to be around 1 page per session when looking at your metrics, unless you take users to a confirmation page (in which case the closer you are to 2 the better). However, if your user is coming to an article section of your site or is actively researching your product or service, you want this number to be higher. 
Bounce rate: Similar to Average Session Duration, your bounce rate can tell you whether users are finding what they need on your site. It can also be a big indicator that your digital ad campaign is falling flat. The lower your bounce rate, the more people are staying on that page once they get there, doing more reading, research, or taking action. But, if your bounce rate is high this means whatever link or ad brought users to your page gave them false expectations of what they might find there (or they clicked by mistake) and they left immediately, spending less than a second on your page. One of the best things you can do when optimizing your website is to look at the pages you have with the highest bounce rate and reworking them to have more value for your visitors. 
Want an easy report to show you how your content is doing? Get this Content Efficiency Analysis Report created by Google Analytics expert, Avinash Kaushik. (When you click the report, make sure you are logged into your Google Analytics account and it will auto-open for you). 
Audience Overview is just the tip of the iceberg when it comes to Google Analytics. The team at Sutherland Weston can help you get a handle on your data and optimize your site for you. Contact us to get started.