A Few Recipes for a Great Pi Day
Today is Pi Day (π Day!)
It's rapidly becoming a tradition to make a pie of some kind on Pi Day, so in the spirit of the day, here's a special set of marketing recipes for you! (And we know pie around here, from buttery flaky crust to graham crackery goodness!)
But this is a bait-and-switch because it's also a great day to make some other kinds of pie – pie charts!
Pie charts don't have to be complicated and generated from a spreadsheet. They are great at giving you some guidance regarding "how much of the pie" you'll give in a marketing budget or "who gets the biggest piece of the pie" concerning customer type. Creating them by hand (not on a computer!) can also provide an excellent thought exercise to help clarify some of your marketing goals.
Here are some examples of pie charts we think might engage your creative thinking and clarify your needs. Today's recipes include, "Who's My Customer Custard Cream?"; "Quick Marketing Budget a La Mode"; and "Web Content Plan Caramel Crunch."
Our pie is only three ingredients (and zero calories!)
---
Pie Chart Recipe One: Who's My Customer Custard Cream?
This chart is useful in identifying who your clients and customers are.
Make a list of all the kinds of people with whom you do business.
Think about how you might group them.
Draw a circle on a piece of paper.
Ask yourself some questions about the customer types you've identified.

With what group of customers are the ones you do the most business?
With what group do you do the least business?
What kinds of customers are in-between?

Draw out your pie slices with a pencil (You can erase and redraw lines — nobody's watching but you!)
You can, if you wish, break each of the larger slices into smaller ones, but don't lose sight of the goal: to give you an overview of your market and a bit of a real sense of who your customers are.
You might also find yourself making some customer profiles as you go, which is always helpful!
Sometimes you may make surprising discoveries!
We can take it outside of the chart now.
Do you notice that there may be one group whose share of your business is substantial?
Is your business spread out through multiple groups?
Is there a group whose slice is quite small, but you'd like to see bigger?
What kind of customer should be there but isn't?
What customer group size surprises you?
This pie chart can help you set goals about what kind of customer you want to market your business to and help you think about what your customers may have in common.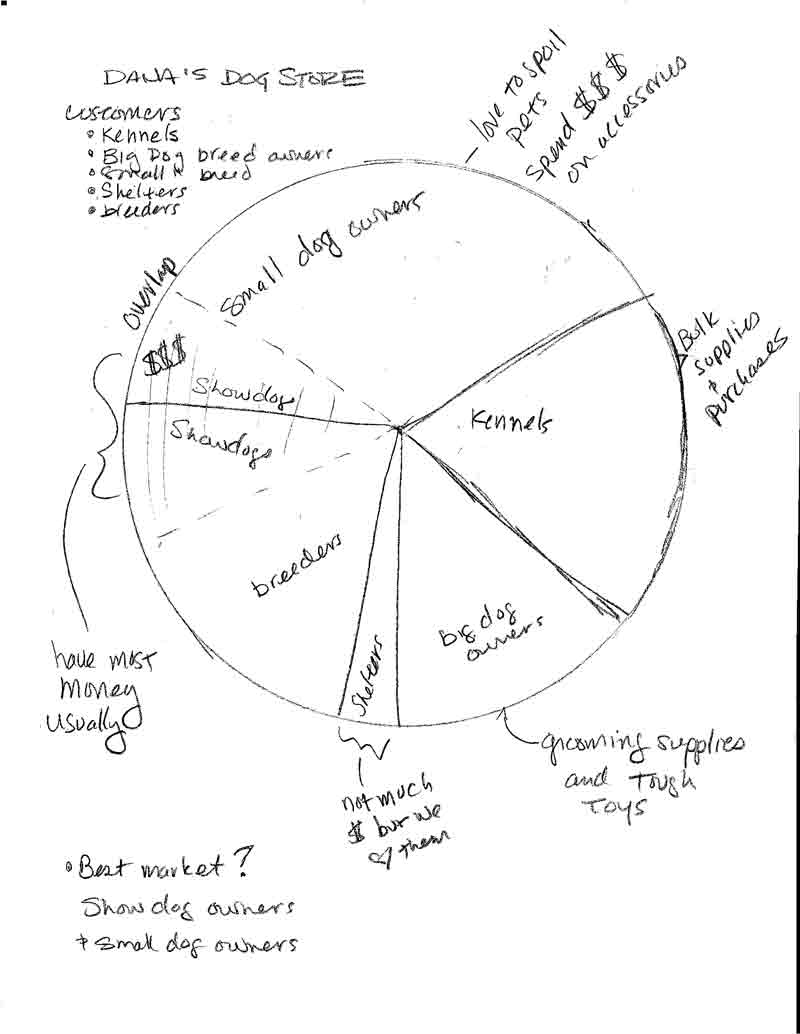 ---
Pie Chart Recipe Two: Quick Marketing Budget a La Mode
Creating a marketing plan or budget can be intimidating. We get it. But thinking about it in a less numerically-focused way can help kick-start that planning process and may even make it easier to work out those numbers later. Here's how to create a pie chart that identifies where you'll market and what chunk of your marketing resources you're willing to put into your budget.
Make a list of your marketing channels. Here's a handy starter, which you can break down further as you go:

Website (visual or technical improvements)
Paid search
Content marketing
Digital advertising
Email marketing
Print advertising
Radio advertising
Television advertising
Trade shows
Publications (your own)
Social Media
Events and Appearances

Draw a circle on a piece of paper.
Here are some questions and considerations about each of these marketing channels as you start to slice your pie.

In which area do you want to spend the most of your resources?
What chunk of my budget (time, money, staff, energy, etc.) will I invest in these areas?
Do any areas stand out? Are all your investments in them nearly equal?
How effective have past efforts been in each of these areas?
Think about the people who you serve. How are they best accessed?
Think about the people you want to serve. How are they best accessed?
How will marketing in each area help meet your goals?

Draw out your pie slices with a pencil.
You can break it down by the slice to consider individual social networks, tv channels, print media, etc., by creating a circle around your pie chart (or inside it) and cutting the "crust" to show how the individual slice can break down further.
Now we take it outside of the chart:
You can make estimates of the percentage of the slices and divide your marketing budget roughly by them. Does that look realistic to you, with real numbers behind it?
Adjust as necessary.
Now you have a marketing budget, and somewhat of a plan, maybe it's a little rough, but you've put thought into it.
---
Pie Chart Recipe Three: Web Content Plan Caramel Crunch
We all hear the beat of the "new web content" drum. Creating content can feel terribly complicated and utterly overwhelming. However, it's much less so when you develop guidelines of your own and propose for yourself a slate of topic areas to write in over the time you're planning.
Make a list the kinds of content you can envision for your website (which you'd share on social media channels too, of course, right?) Examples include:

Informational articles
General industry interest or research
"Day in the life" stories
Customer case studies and success stories
How-tos
Product-focused
Staff features, other "soft" internal stories

Draw a circle on a piece of paper.
Ask yourself some questions about what you think your prospective clients would be most interested in.
Draw out your pie slices with a pencil. (We're all ok with erasing by now, right?) Give each topic area it's appropriate slice, based on interest.
Now we will move beyond the chart:
Take the estimated number of posts you plan for your year and choose how many posts you'll make about each content area you've identified.
Create a calendar schedule noting the topic and publication dates.
Create content (remember, it can be pretty short!)
---
Pie Chart Recipe Three Point One Four: Some Actual Pies!
Maybe you need a little incentive to work out these pie charts. I strongly advocate for you to get a real pie as a reward for working on any of these!
You can go out and get pie, of course, or if you're truly caught up in the Pi Day spirit, you can pull together a pie (or two! or three! Or 3.14159265359…) from this inspirational collection of 22 recipes* in celebration of Pi Day from Southern Living magazine.
By the way, you can contact us if you'd someone else to help with these sorts of things. (Or if you'd like to bring us pie, I'm personally partial to cherry.)
Happy Pi Day!
*Bonus nerd alert: did you know that math books used to express Pi as 22/7? Coincidence? I think not!