Digital Advertising & Marketing Campaigns
We Can Help You Boost More Than Posts. We'll Boost Results.
Our digital advertising and marketing campaign services are designed to help you see a better return on investment (ROI).
We obsess over accountability, make sure you see the numbers, understand the trends, and participate in the decision-making process – all while taking the overwhelm and guesswork out of moving the needle online.
We Can Help You Grow In Google
Pay-per-click and search engine marketing campaigns allow you to bid on high-value search phrases and be found by potential customers.
We'll help you rise above the competition.
How?
By using the most promising and profitable keywords to help you stand out and get more traffic.
Our services include doing a little spying on your competition, researching traffic-generating phrases, and designing a campaign that delivers results.
Once the campaign is crafted, we'll stay on top of it with consistent monitoring, review, and adjustments to keep it working hard for your business.
We Design & Manage:
Google Pay-Per-Click Campaigns (PPC)
Facebook/Instagram Ads
LinkedIn Campaigns
Video & Pre-Roll
Display
Retargeting
Email Marketing
---

"I would not hesitate to recommend 

Sutherland Weston to any organization that 

needs a creative, knowledgeable, responsive, 

and results-oriented marketing firm."
"UMA was impressed with Sutherland Weston's problem-solving ability to take  a creative idea and develop that into a polished and distinctive product in a timely fashion and on budget."
-Brent Wooten
University of Maine Augusta
---
Leveraging the Power of Social Media
We'll help you do more than boost a post; we'll help you boost revenue.
One of the most powerful places to generate new leads, Facebook Ads present a world of opportunity for finding new customers.
We'll help you make the most of the Facebook world of data by crafting campaigns that generate results.
With an in-house team of graphic artists, copywriters, and video producers, we'll help by creating the content that will go beyond likes and start delivering leads.
Capturing Attention (and Leads) with Video
You've probably heard that video content is the next big thing. Well, it's here and it's not just for entertainment.
When adding video, marketers report getting 66% more qualified leads per year.
Video stats like these don't just happen; they are a combination of digital-savvy strategy, focused messaging, strong storytelling, and compelling visuals.
But don't worry, we've got you covered. From repurposing your existing video content to building your campaign from concept to final cut, we'll do so with more than just plays in mind.
---
Aroostook County Tourism has benefited greatly from our collaboration with Sutherland Weston.

A thoughtful, strategic, and affordable set of approaches that have already borne noteworthy results.
– Alain Oullette
Northern Maine Development Commission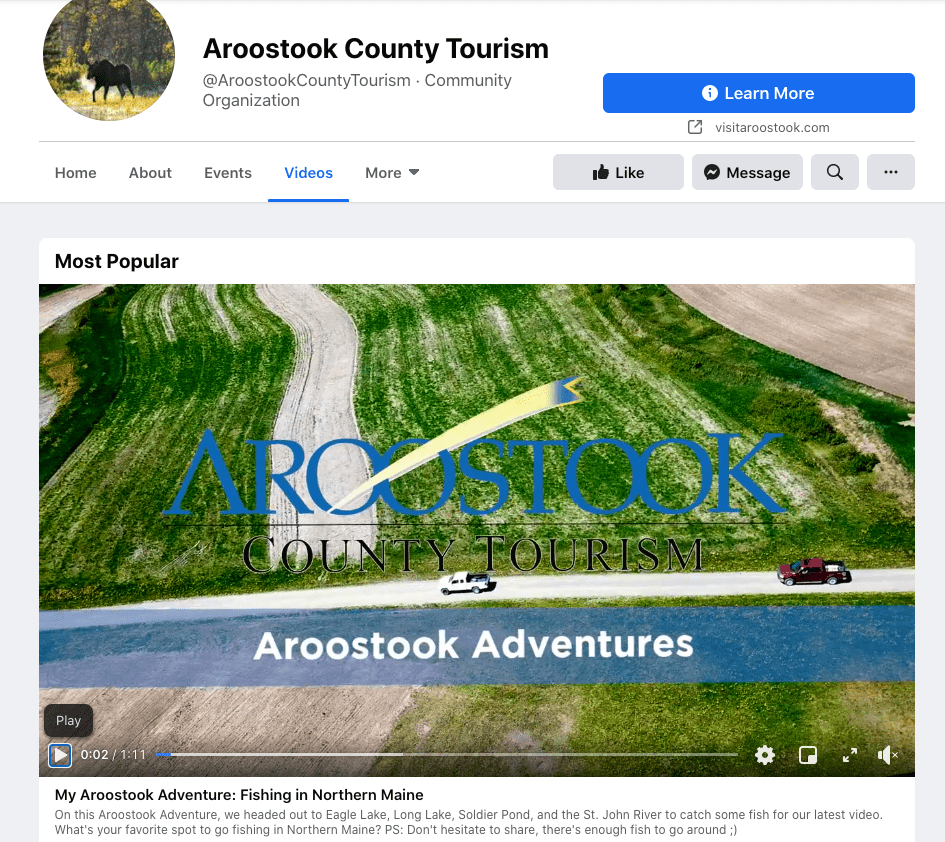 ---
We Can Review & Analyze Your Existing Campaign
Not all campaigns deliver the same results. If you're wondering if your current digital campaign efforts are working, let's talk.
The value of a campaign shouldn't be gauged on impressions or clicks but rather results. Success can be measured in various ways, but if the campaign you're paying for now is not focused on metrics that really matter, we can help.
Whether your campaign was set up by you, your staff, or a paid outside vendor, we can review and offer suggestions for improvement.
---
Would You Like To Schedule A Conversation?
Digital talk without the complicated tech-speak.
If you'd like to set up a conversation with a digital marketing specialist to discuss your situation, here's the good news:
We don't actually have salespeople. So you'll be talking with the folks on our team that do the work and talk with clients every day.
But don't fear – we're easy to talk to. In fact, we all are. That's one of the differences that set us apart. The ability to relate to your situation, talk in terms you can understand, and be transparent and responsive to your needs.
So go ahead – fill out the form and let us know a little about what you're looking for.
We'll find a time that works best for you and perhaps we can help you rest easy knowing there's someone that can help.
Want to call instead?
That's cool. Use this number: (207) 945-9999
Related Projects