Virtual Workshop: Five Ways Marketing Can Support The Effort To Find Employees
June 15, 2021 @ 10:00 am

-

11:30 am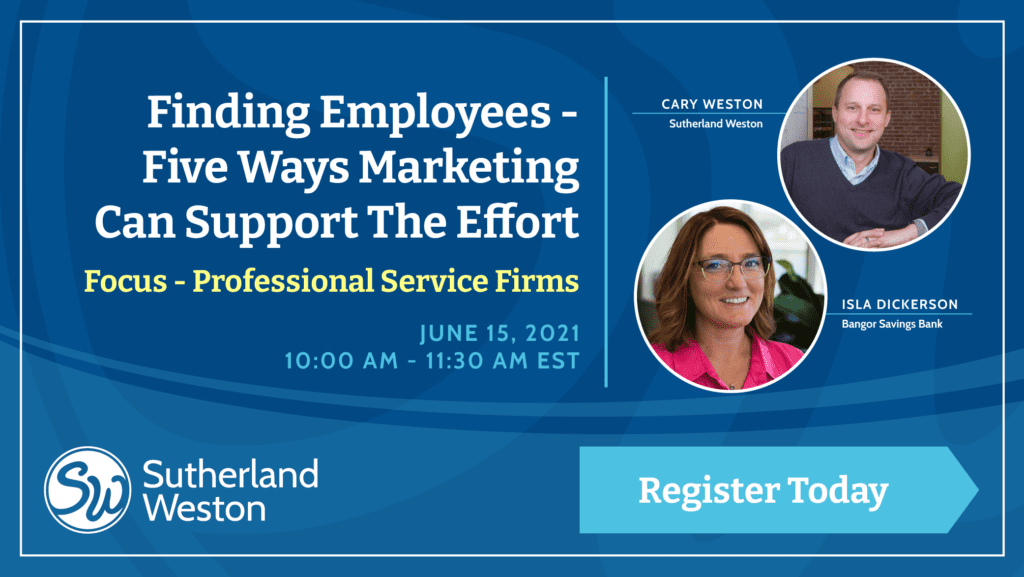 DETAILS
Date: Tue, June 15 10am – 11:30am (Eastern)
Cost: Free to attend; Registration required
Hosted By:

Cary Weston, President – Sutherland Weston
Isla Dickerson, Senior Vice President and Director of Marketing, Community & Public Relations – Bangor Savings Bank
Replay: Discussion will be recorded and posted for replay. If you can't attend but want to watch the reply, register for the webinar and the link will be sent out to all who registered.
Finding Employees
Professional services firms of all sizes are finding the recruiting process for employees to be a significant challenge.
We've all heard it and perhaps even experienced it. Remember when you had to filter through all the applications to narrow down the interview list.  Now just finding applicants is a full-time effort.
Bottom line – hiring right now is a lot more work than it used to be.   It's not enough to just have a "job opening' or say 'we're hiring'.  So – what can you do?
The discussion will focus on five key areas that marketing can help shape to improve recruitment efforts.
Culture
Clarity
Community
Commitment
Character
About Isla Dickerson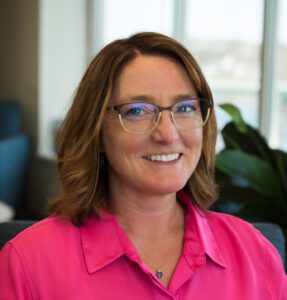 Isla C. Dickerson, Senior Vice President and Director of Marketing, Community & Public Relations, joined Bangor Savings Bank in November 2014, and is a member of the Bangor Savings Bank Leadership Committee.
Prior to joining Bangor Savings Bank she founded and led Cape Rosier Consulting, a marketing and communications consulting firm with offices in Maryland and Maine, for 8 years. She began her career at a small publishing company on an island off the coast of Maine and then joined MBNA in 1996 where she held executive leadership roles in Marketing, Operations and Employee Education & Leadership Development.  She is also the founder and owner of The Retreat at Betsy's Cove.
Dickerson is an MBNA Management Development Alumnus and recipient of the Bank of America Leadership Platinum Award.  She serves on the boards of The Hudson Museum, New England Financial Marketing Association, Maine Bankers Association.  She is an active supporter of land trusts throughout New England, and serves multiple economic development, entrepreneurial and business development non-profits in advisory capacities.