Blowing the Whistle on Your Lead Strategy
When it comes to growing your business, we all know to make sales we need leads. The more qualified those leads, the higher the chances we will close the deal.
But, how do we get those quality leads? The ones who need what we have to offer and are ready to buy what we're selling?
It may sound overly simplistic, but the best way is to have them come to you.
Are you happy with your long distance phone service?
Come again? If you're slightly miffed and wondering why in the world we would be trying to talk about long distance phone service right now, hold on to that confusion for a moment.
Whether it's the cold call at dinner that actively interrupted your meal or the sixteenth ad you've seen on Facebook for a service you don't want and won't ever need, we've all been in this undesirable spot.
Now, we're not saying call centers or Facebook ads don't work. For many industries, they have a place in your overall marketing strategy. However, when delivered to the wrong people over and over, they can carry a high cost with low return and make a bad first impression for your brand.
I don't even have a landline! 
To avoid overselling uninterested prospects, knowing your customer is key. Who are they, what do they like, where do they shop, how do they purchase?
We call this your client avatar; a fictitious character that represents your customer. This character has a profile, a background, purchasing history, specific needs and wants.
Rather than talking to everyone, your message can be more effective if you narrow your focus and invite those who care into the conversation.
Oh hey, that's me! 
Now that you know who your customer is, it's time to put out some feelers and rally your tribe.
Think of your marketing efforts in this stage as a dog whistle that needs to be blown at the right frequency to get a response. Put out content, whether it be a blog post, digital ads, radio commercial or tv spot, that talks specifically to your audience, who they are, and most importantly their pain points.
Your goal is to have the right prospects hear the whistle, raise their hands and say, "Hey, that's me! I live in an area with terrible cell reception and could use a more reliable line" or "That's me! I have loved ones overseas but am not loving the long distance charges every time I call them".
Once everyone is gathered around to hear more, capture their email address, collect their cookies, or get their info another way so you can start telling them how your product or service will solve their specific problem.
We call this lead generation.
Feed the funnel, make more sales
Lead gen is defined as the art of initiating customer interest and using that information to cultivate relationships to generate sales.
Simply put – find customers already looking for what you have to offer and lead them to the sale through positive, wanted interaction.
With lead generation, not only do you not become that annoying disruption to your potential customer, but you also end up with a list of people who've at least shown interest in your product or service, making them what we call a qualified lead. It's a win-win.
Once you secure a lead, they begin their journey through your sales funnel, where hopefully they convert to a customer. But, getting prospects into your funnel is only the start.
Engage with purpose
"People do business with people they know, like and trust."
Once you have a list of leads you need to be prepared to engage, inform, and offer value. This builds authority and trust that allows you to convert your new audience into customers.
With the right lead generation strategy, you can move more leads from Awareness to Action and measure impact along the way.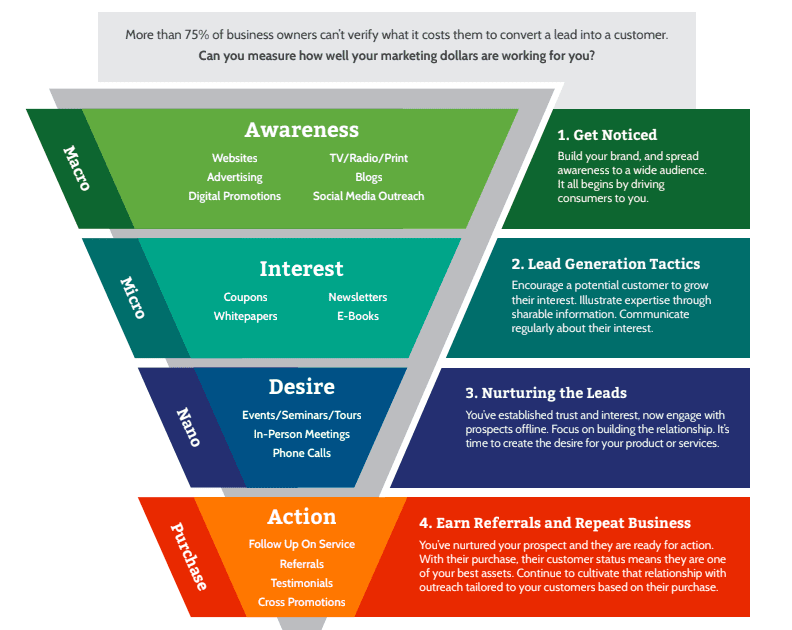 At Sutherland Weston, we develop and execute lead generation strategies that fill your pipeline, build customer relationships, and get your prospects to take action. Are you ready for more sales?