Video Production Services For Businesses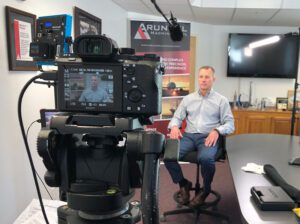 We provide video production services for businesses. Our videos help make marketing and communication efforts more effective.
Video production services for businesses are used in a variety of ways.  We create videos to help with trade show efforts and product demonstrations. Videos that showcase testimonials and videos to help recruit new employees.
If you're seeking television commercials or digital campaigns, see more here.
Common Business Video Needs:
Product demonstration
Employee / Corporate Culture
Blogs / Pro Tips For Social And Web Use
Trade Show Marketing
Corporate Overview
Public Relations
Our process includes:
Goal setting
Script development
Talent, resources, and locations
Scheduling
Filming on location(s)
Editing film
Gathering external voices and music
Client communication, edits & revisions
Revisions as needed
Captions & Transcripts
Exporting final product to locations or destinations needed
Additional Resources:
Building Credibility Through Video
Reviews and testimonials help build trust Learn more here
Using Video In your Hiring Process
Why not include video in hiring efforts? Learn more here
Showcasing an Experience Through Video
Video can help you get viewers off the couch into your business Learn more here
Sample Work From Our Business Video Portfolio: