Video Production Services For Non-Profits & Organizations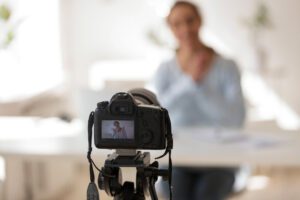 Our specialities include video production services for non-profits & organizations. Videos help share stories of impact, bringing testimonials to life and helping to scale communication efforts of the organization.
The ability for an organization to add value to conversations, provide meaningful guides and resources in real time and answering frequent questions is essential.
With shrinking resources and increasing needs, video becomes an effective and efficient way to bring out the expertise, culture and personality of the organization in a way words and images simply can't.
Videos Deliver 90% Increase In Retaining Information
When video production for non-profits is needed for causes and events, getting the essential information in the right places, to right people and having it quickly understood is key to success. Studies show that people retain as much as 90% of content seen through video as compared to as little as 10% when delivered in text only. Videos provide a cause and event a more powerful way to get noticed and deliver the information that matters most to end goal in a way that can be consumed on a variety of devices.
Using Answers To Frequent Questions In Video Production For Non-Profits
Another way to effectively use video production for non-profits is to help build a library of in-depth answers to the questions your team receives most frequently. Having a ready-to-view library of valuable and meaningful video content can help you convey key information at the convenience of your website viewer or social media connection.  Having resources such as a deep and rich video content library will help the increase meaningful connections and while working to build trust and confidence in its mission.
Our team is skilled at finding the key points of your story, shaping the right messaging and developing videos that you'll want to share.
Video Production Services For Non-Profit Organizations Often Include:
Annual Campaign Overview
Capital Campaign
Cause or Event Promotion
Fund-Raising Awareness
Video Case Statement
Related Resources Of Interests:
Sample Work From Our Video Production Services For Non-Profits: