Your Value Binder – Separating You From The Competition
Standing Out In The Sales Process
If you're looking for one solid way to stand out from your competition in the eyes of a potential customer, building a value binder may be the most valuable and profitable way to do it.
This tactic will work for professional service companies, manufacturing, and industrial service. This tactic will work for non-profits and it will work for companies that sell to residential consumers.
And the best part – it doesn't have to cost you a penny.
Repetition Is Opportunity
If you're like many business owners, you answer the same questions many times over from a number of various clients and customers.  Sometimes it's via email and sometimes it's in person.  Often times the questions come from folks who may be exploring the product or service you offer for the first time. They are looking for an answer to a problem. They are looking for guidance. And, perhaps most importantly, they are looking for someone to trust.
You already know the type of questions, and even the exact questions, you're going to get from those folks. You know the questions they want to ask and you know the questions they don't realize they're going to ask yet.
That's because you have the experience. What is new to them is old hat to you.
And, if you're like many business owners, each time you are asked that question, you try to remember what you said last time – what worked and what didn't.
And, if you have employees, you hope they say what you say. Or, more importantly, you hope they say something close to what you say.
Wouldn't it be great if you took all that experience – that customer value – and documented it so that you could use it over and over again?
The Opportunities You Didn't Get To Have
I have many business owners tell me that their closing percentage is high. They tell me things like "Cary, if we can just get in the room with them, we do a great job answering their questions and closing the deal."
That's great to hear. But there are two business challenges to that statement:
Other businesses – your competitors – say the same thing.
That's not a scalable activity – you can only be in one place at a time.
Why do you think it is that the closing percentage is so high if you – or your competitors – can get in the room?  It's because most businesses look the same from afar and customers can't see what makes them different. If they meet with someone, they get to judge for themselves if it "feels like" you're a business they want to work with. In a meeting, they have the opportunity to decrease the barrier of the unknown by interacting with you and getting information that matters most to them.  They are given the opportunity to increase their confidence in their decision to work with you. They are given the opportunity to trust you.
But in order for your business to benefit from that experience, you have to be asked by the customer to meet.
So, what if there was a way to increase the number of folks that wanted to talk with you – that wanted to meet with you – for their business needs?  What if there was a way to get more of the meetings that your competitors are getting – and closing – to meet and close with you instead?
That's what the value binder can do for your business.
My First Value Binder Moment
I think the first time I actually referred to the value binder in practice was in the spring of 2007.   I was meeting the Executive Producers for the television show "Extreme Makeover: Home Edition" as they were planning to come to Maine to film in the fall.
---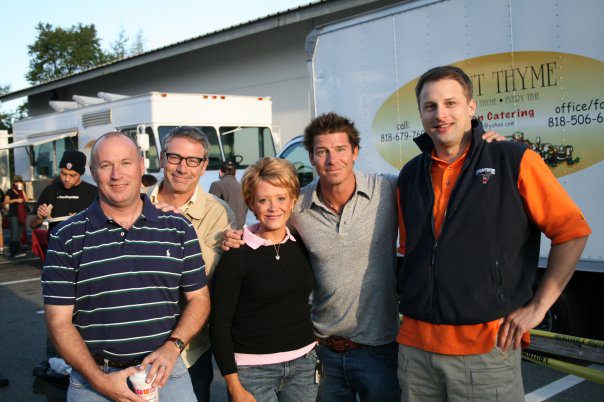 ---
A client of ours had been selected as the lead contractor for the house that would be built that fall. This was my first time participating in an event that large. Naturally, I had some questions. So they flew to Maine to talk with us about how how to get ready for the event.
If you're not familiar with that show, it's essentially a community barn raising. They pick a family, come to town, and build a dream house for them in about 5 days.
Our build, they said, was the show's 104th home and with 103 projects completed. With that many projects under their belt, assured us they had the building process down to a science.
Those 103 previous experiences are important to this story. I was excited to be a part of this adventure and I was very much looking forward to seeing how it was done.
My excitement dimmed slightly as they went on to share that there was no budget, no money, and the show brought with it no materials for helping to build the house.
Sure they had vendors that would be providing cool furniture, appliances, a few treadmills, and some flat-screen TVs ready to stock when the building was done. But when it came to the actual materials and labor to build the house with, it was all up to us. It was all up to us to get it donated, transported, and built.
For free.
Oh – and while that's going on, we would also need to find food and supplies to keep 300 volunteers fed and stocked with life's essentials on a 24-hour basis.
This is the side of the project that TV cameras don't show.
It was a challenge for sure – but one I knew we could handle.  Especially with this much experience at the table.
So I asked where their value binder was. Their book of knowledge. The golden guide that had been crafted from the adventures of the previous 103 builds that would serve as our road map to accelerating success.
Blank stares.  Crickets.
None to be found.  Zip. Nada.  No resource guide of best practices, tips, tools, and advice to send us on our way with.
We were starting from scratch.
My excitement was now more than dimmed. It was basically gone.
What could have been a fantastic way to show experience and calm anxieties became a lost opportunity to build trust and confidence.
Is Your Value Binder Visible?
We may not look at things this way in business because we are so familiar with what we do and how we do it.
But trust me on the fact businesses lose opportunities every day due to their inability to convey they understand what the customer is thinking, feeling, and needing.
The good news is your binder can be a profitable piece of your marketing efforts and it really doesn't have to cost you a thing.
You see, every business has a three-ring binder – it may be mental but it's there.  It's full of the questions prospects have. The fears they must overcome. And the challenges and "what if's" that pop up along the way.
It's the road map for your customer experience. The tips, tools, and guides that present the best paths to travel on – information your customers rarely have….but would appreciate greatly.  Connecting your knowledge and experience to their goals and desires is where you win.
Whether it's developing a website, attending a trade show, meeting a prospect, or taking a cold call on the phone – you have a distinct advantage over the prospect that's shopping the products and services you provide:  You've done this before and you know what they need to know – whether they know it or not.
How To Create And Use Yours
While it will always be a fluid process, there are some simple steps you can take to begin creating content and tools to help you build value and connections. You can start with just a notebook and a pen. From there, move to create content based on the simple bullet points you crafted in your notebook.
The more specific you are, the more valuable it will be.  And to be successful, remember these three key points:
1. Categorize Your Customers
You have different types of clients and customers and each will have a unique set of questions, challenges, and needs. By categorizing your customer and client types, you can organize their most frequent questions and requests.
2. Anticipate The Questions.
Think before they do.  Give them the answers to questions they haven't thought of asking yet.  Put yourself in their shoes and model your binder after what you know has made you successful.  Start by just writing all the questions you can think of. Don't filter any out. You'll have variations and repetition but that's ok. The key here is to just job the memory and get it all out.
Then it's time to write your answers. Prioritize based on the frequency you hear the question or the value it brings to the process. Write as if you're speaking to a single person right in front of you. Be thorough and detailed. Be simple and clear. Write your answers in a way that someone looking at what you do for the very first time can relate, understand, and find value in what you are sharing.
3. Create Case Studies
Develop materials that showcase your experience, how you've solved problems, and created the exact solution they will be looking for.  Showing your work by showing people just like them will help to build a personal sense of confidence in the work you do.
What The Binder Actually Looks Like
Back in 2007, I was actually looking for a physical binder. I was hoping there was a three-ring notebook with actual pages of information.
Today, your binder can be any number of things.
It can be pages on your website, posts in a blog, videos that you create, or, yes, physical documents that you can print and share.
The SEO And Social Media Value Of Your Binder
Creating pages on your website for your questions and answers to living can serve as a fantastic marketing tool in various ways, including these three:
FAST AND VALUABLE EMAIL REPLY
Serving as a valuable reference when asked a question by email. This saves you an incredible amount of time and helps you make positive impressions to customers and prospects. What better way to build trust and confidence than to reply quicker than your competition with a thorough and valuable answer. For instance:

QUESTION RECEIVED: "I have an engineering firm and my website needs some work. I'm looking for a company to help me upgrade my website to help it create more leads for my business. Is this something you do?"
ANSWER: "Thanks for writing. Yes, we can certainly help with that. In fact, we get that question a lot. I'd welcome the chance to talk with you. While we set up a good day and time for a call, here's a page we've put together to help with that exact question."

SOCIAL MEIDA POSTING
Individual answer pages make fantastic posts on social media and help bring traffic to your website. Here's an example.

LINKEDIN POST: "We're having more conversations about video marketing and many businesses want to do more but not sure where to start or how.  If you're looking to do more video posts this year for your business and want some easy ways to increase the quality of your work, here's a page our video team has put together to help.

GOOGLE SEARCH RESULTS
Here's something remember: If customers have questions, they are most likely asking Google. Having pages that are essentially answers to frequent questions will help you be found when customers in your area are looking for answers.  Written thoroughly and thoughtfully, pages with answers to frequent questions become fantastic search results pages, can help boost your SEO and bring more customers to your website.
Doing this will not only help the customer see the value in what you bring but cut down the anxiety and separate you from the competition.
And it will help you grow more business and make more money.